Background
Michael Murton has worked as an Architectural Design and Technical Assistant over the years. Typical duties include preparation of the drawings and completion of the forms and Design and Access statements needed for Planning Applications, through to creating architectural concept models for large and small schemes for the design teams as their projects progress.
The Challenge
Every day Michael visits a Portuguese delicatessen and café in his neighbourhood and early in 2012, the owner asked him to draw up a scheme to extend the premises of his business and help him make a formal full planning application for the proposed changes.
The premises at the time were a row of three former shops with very run-down 'shanty town' rearward elevations, which were incapable of keeping out the weather and also encouraged break-ins. The café proprietor owned the freehold of two of the three shops and he was keen to develop these first, as they were in a particularly bad way.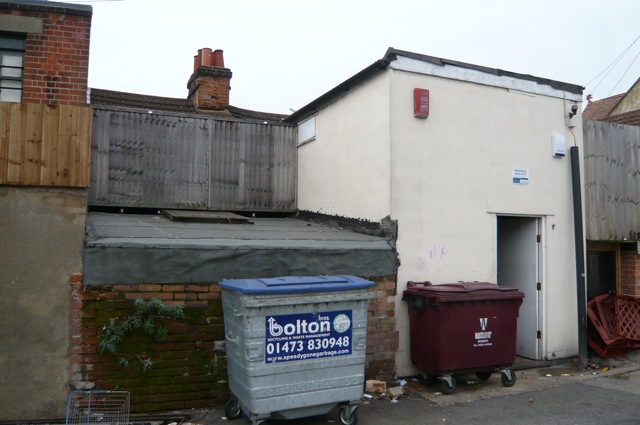 THE REAR ELEVATIONS OF FORMER SHOPS NOS 32 & 34 NORWICH ROAD, IPSWICH
This would be done by unifying the external materials, the heights and depths of the existing structures as two storey buildings echoing the workman-like simplicity of many of the surrounding premises.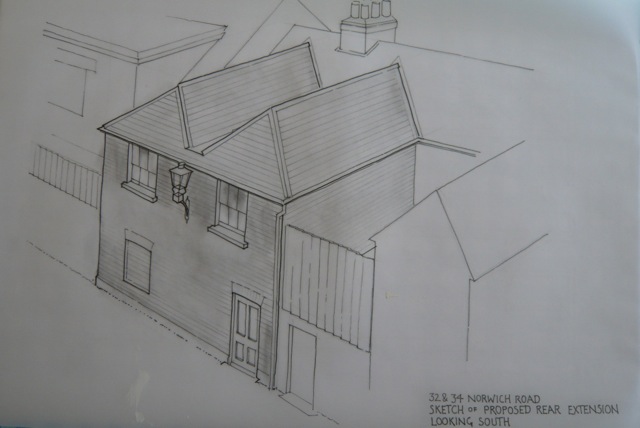 PERSPECTIVE VIEW OF THE PROPOSED NEW REAR ELEVATIONS TO THE SHOPS
The Solution
The first thing that was needed was a clear Ordnance Survey plan showing where the boundaries of the three former shops actually were. Michael duly purchased a scale site location plan through BuyAPlan.co.uk which allows fast and easy selection of the optimum scale for the requirement at hand and to center the exact sites whilst showing the surrounding context.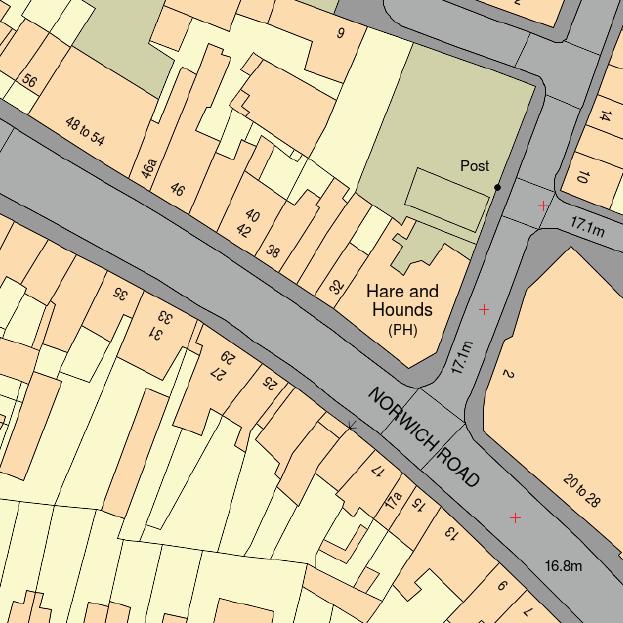 1:1250 SCALE SITE LOCATION PLAN BASED ON OS MASTERMAP®
The sites were tightly 'sandwiched' in amid other shops, a former public house, businesses and a car park.
Michael was able to preview the site location plan on the web site at different scales prior to purchasing the optimum one for his needs. The plan scale was 1:1250 printed at A4, centred on the three shops, Nos. 32, 34 & 36 Norwich Road.
The submission of a Plan is a planning requirement for the full application, and this plan in particular was useful as the whole area is made up from 19th century shops, houses and streets overlaying a former turnpike to Norwich passing through former orchards and gardens whose boundaries are still discernible amid the subsequent parceling up of the land. This makes a particularly 'busy' plan where the apparent boundary line chaos is made clear and simple to understand by the Ordnance Survey map.
Michael submitted the application with the drawings and BuyAPlan™'s site location plan in March 2012 and after the expected reservations and proposed use enquiries from the local authority he was given full planning consent in September 2012, without conditions and an additional short paragraph stating why the local authority's planning committee approved of the scheme in the way that they did.
Products Used:
A BuyAPlan® 1:1250 scale site location plan available from BuyAPlan®